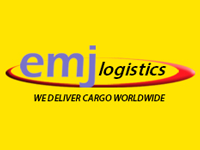 View More
With over 35 years industry experience, EMJ Logistics provides full import and export sea and air freight services, including household removals, from your point of origin to your final destination. Our experience, knowledge, and worldwide network of freight forwarders, customs agents, carriers and removal experts allow us to move your consignment efficiently and safely from origin to any destination in the world.
We are a broad based company, comprised of competent professionals with up to date ideas, utilizing state of the art technology to make your shipping experience seem effortless. For our clients, this means finding the ideal solutions for your shipments, always giving specialized attention tailored specifically to your personal requirements for any commodity.
We provide you with all the guidance and assistance throughout the relevant freight processes and regulatory bodies to make it all as easy as possible.